Thank God I'm free at last!
My time at a desk job has come to an end with surprising ease and I'm ready to go to work on the millions of projects that are swarming through my head. I'll spare most of the gorey details of my last day of work (considering the whole day lasted...umm...1 1/2 hours!) I got to work at 7:30 with resignation letter in hand....nervous as a cat about telling Mr. B that I'd had just about enough....was called into his office at 9am and was out of there by 9:25....never to return! He let me go before I even had a chance to turn in my letter, but don't worry - I left it there for him to read. Enough said.


Now, here I am on a Sunday morning at 7:30 remembering that in 24 hours I can still be here, right where I am - in bed with my doggies, typing, sewing, cleaning, planning, rearranging, grocery shopping, doing laundry, walking the dogs, excercising, cooking breakfast, or whatever else I damn well please rather than rushing to work to endure another day of....the grind. It feels pretty good. It feels pretty overwhelming. So much to do and so much time to do it! Who would have ever thought I'd have that problem? ha. I need a plan. What to do first? Well, definitely finish all my current orders and ship them off so I can start from scratch. Definitely stay out of the fabric and craft stores since I received my last paycheck yesterday. Need to make that one last for a while - or at least until I get some more orders! Definitely clean house. Definitely grocery shop. Ok, wait...that's too much.
I've said it before and I'll say it again... thank you... to all my friends and family who have helped me get through this past month and the struggle with quitting the job and taking this venture to a new level. Thanks for all the well wishes sent through voicemail, email, myspace, etc. Thanks to Ginny for spending most of the day with me on Friday when I walked out for the last time and thanks to Caroline for making me smile the day before when I was so stressed! Thanks to my hubby for being so supportive - wasn't really what he wanted at first, but I think he's happy now. I think he'll be happy to have me at home too - clean laundry and no more bare cupboards! I think he'll be even more happy when I start making some money! haha! Thanks - to you all!
On a completely different note, I had some theraputic moments in our backyard Saturday
morning. Took some pictures. I try to do it every season so we'll remember what we did the year before. I have to say we are slacking right now. I didn't take pictures of the things that this summer drought has dried up....only the pretty things and the things that make me happy....like that
collection of mushrooms
and the struggling patch of
impatiens
by the swing or the
Garner Birdhouse
from Jason's mom. Or especially
Miss Savannah
(as I call her) and the Elephant Ears behind her. The
Knockout Roses and purple Vinca
that are looking ever so lovely despite the fact that we need to re-mulch that bed so badly. Oh, and the
Blue Mountain
flowers....these were a random purchase from Lowe's that Jason
picked out. Is that why they are special? Ok, so maybe the yard doesn't look so bad after all....it pretty much all makes me happy.
Oh, and I also had a fun little craft project on Saturday. New Key Fobs!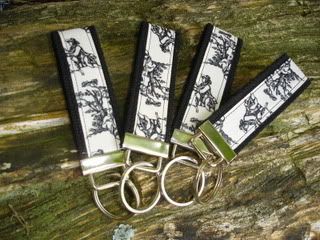 These are so fun....made one for myself, one for a friend and two to sell on the website. There will be more of these to come. Not necessarily because they will be bi
g sellers, but because I enjoy making them. Isn't that how this whole thing got started anyway?
So, here I am....free at last. Where do I start?