So much going on this week and it has flown by! I can no longer say TGIF because Fridays really just aren't that special anymore and I'm not relieved by there presence anymore. Every day's a Friday....or a Saturday or Sunday for that matter. Every day is great and full and busy with so many new projects. Speaking of projects....

First project: Finished Ginny and Caroline's adorable Mother/Daughter outfits for them to wear to the family reunion tomorrow! Took pictures, posted to the web, etc etc etc. Could rave about my satisfaction of this project for days! As a matter of fact, I have!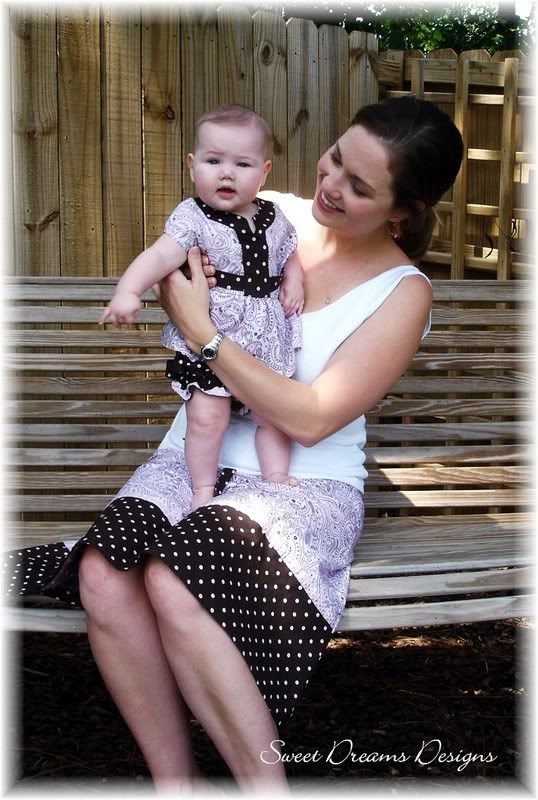 Second project: I began trying my hand at applique this week! Made two cute little wintertime jumpers - yes more girly stuff. I have GOT to get started on some boy things after many many requests. Back to the jumpers...one is for Christmas with a tree and lights and the other is pink corduroy with a little flower in a pot on it. I'm thinking...."Put some SPRING in her step this fall!" as the tag line for that particular outfit....whaddaya think?
Third project : An adorable wintertime flannel in pink with scarves and toboggans on it. And my favorite part....red ball fringe! I think this one will be "SNOW much fun!" Ok, maybe I'm getting a little cheesy, but if it works, it works!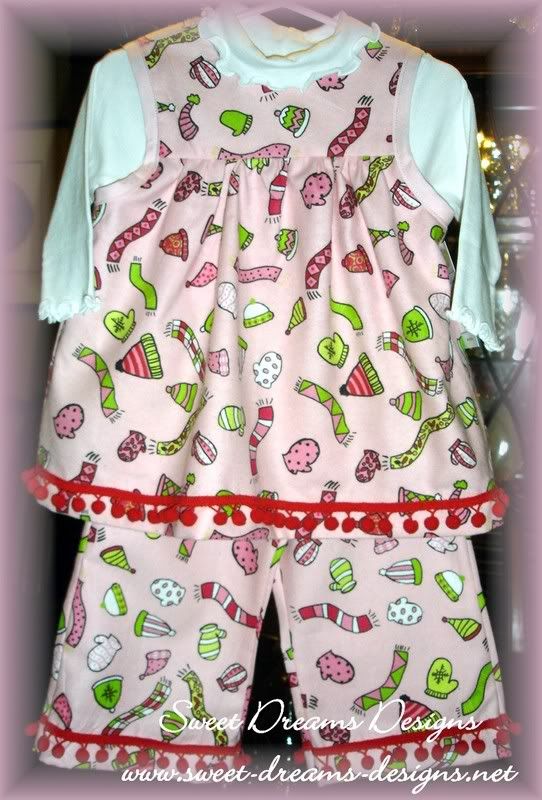 Fourth project: Traci's apron fabric came in yesterday and I have it all cut out ready to be put together, but something else got in the way....see fifth project!
Fifth project: My sewing room fabric came in! YEA! I already have one panel curtain made and one more to go, along with pillows, cushions, a table skirt and whatever else I can make with all of these yummy fabrics! And now, a plug for my new favorite fabric designer: Heather Bailey. She has recently designed the most beautiful fabrics and the best part is they are such wonderful quality! I was so pleased when the fabrics came yesterday. They were so perfect there was no need to even iron or wash them. I will be making clothes out of these fabrics one of these days....maybe Spring.
What are next week's projects, you ask? Finish the Auburn dress for Savannah that I have been meaning to get to for two months. Finish Traci's apron (both must be done by Tuesday for our GNO dinner!! Did someone say margaritas?) Maybe get another panel curtain done. Finish a shirt I started today for myself. Do a little more organizing in the old sewing room!

Ok, so there you have it! That is what has been keeping me busy this week! I'll do better next week about posting...